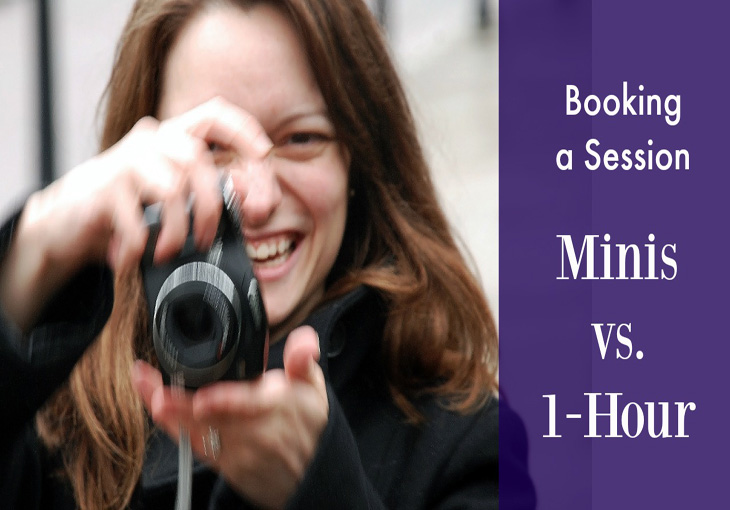 As a follow up to the four blocks of mini sessions I announced last week, I want to explain a few key differences about my mini sessions vs. my standard 1-hour photo shoot. If you are on the fence about which session type to book, here is the down and dirty:
Mini Sessions: $170, 10-20 retouched images via download, full rights
Half the price of a regular session. Perfect if you want multiple shoots during the year (takes the pressure off one big shoot!), want to capture an extra milestone moment, or just want a handful of updated photos for holiday cards.
Only 20 minutes. Perfect for those kiddos (and, let's be real, sometimes dads, too!) who just don't have more than 20 minutes of patience in them for photos.
Quick and down to business. Everyone is busy…this is a small time commitment with a really big pay off! If you are a new client, have little ones who might take a little more time to warm up to me/the situation, haven't had professional photos taken in a long time, or want some variety in backdrops and setups…this may not be the session type for you. It's one backdrop, and a handful of poses. Our time together moves very quickly.
1-Hour Sessions: $300, 90-100 retouched images via download, full rights
More flexibility. The number of locations we can shoot at in and around Chicago are nearly limitless for a typical 1-hour session. I can meet you just about anywhere, and we can take time to really explore.
A lot of variety. You'd be amazed at how much ground we can cover in an hour. Lots of different backdrops, varied setups, and it gives us the opportunity to get to know each other, or, in many cases, catch up.  We can also do wardrobe changes, something key when you have a ton of adorable baby clothes to document!
Relaxed. Running a few minutes late? It's no big deal when we have an hour. Or, if we are having so much fun that we run over a few minutes…not a problem. If a baby is having a rough start…there is time to try different techniques and figure out what is going to make them comfortable and happy so we can get some happy, smiley shots. By the end of the hour, we have gotten the "must have" shots out of the way, everyone is more relaxed, and we can play around…capturing some light-hearted, fun, or more artistic candid shots.
I still have spots left for September-November Mini Sessions Downtown, in Libertyville, at Lighthouse Beach, and in Studio. And I also have some 1-hour spots available August-December, as well. My calendar is filling fast, so don't wait until the Fall to think about holiday card photos. I'm excited about both of these options, and can't wait to catch up with your beautiful families this year!