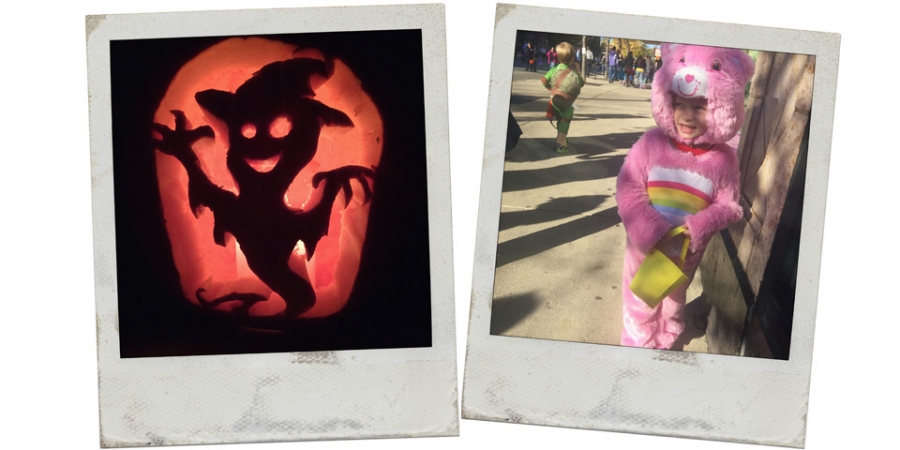 We have gone apple picking and pumpkin picking. We have been to our neighborhood's Apple Fest, Goebbert's Fall Fest, Boo at the Brookfield Zoo, and have trick-or-treated on Southport. We carved jack-o-lanterns and decorated pumpkins. Our little Care Bear has modeled her costume three times already, and Halloween isn't even until this weekend. It's been a very fun rolling fall season for our family, and we have enjoyed every minute.

*Manis with Mom. Technically, this was a gold star from last week when Mom was in town. But I am still smiling about our fun mother-daughter morning, having breakfast out and getting our nails done, while Eloise was at school. It's always nice to feel pampered, and it was fun to relax and hang out together. Love you, Mom!
*Another Uneventful Vet Visit. Last year around this same time, our dog, Dorey, hurt her back and was limping. Although we feared the worst, we dodged a bullet, and she was easily cured with some rest and pain medication. This week, when she started limping again, we were once again concerned. But, thank God, we again walked out of the vet's office with meds and the comforting knowledge that while arthritis will certainly be an issue for her down the road, for now, our Dorey is still doing OK. It's hard watching her get older. And she often gets the short end of the stick when it comes to our attention in the midst of our daily chaos. We are hugging her just a little tighter this week, and feeling so thankful for her.
*Little Kicker. Truthfully…I've been dreading feeling the baby kick. I've been worried it would send me back in time to last year when I felt like a ticking-time-bomb, obsessively counting Hannah's kicks in order to try and save her life. The pressure was unbelievable, and although this is a different baby and a completely different situation…it's incredibly scary to even imagine reliving that. But feeling this baby move around hasn't been quite as hard as I imagined. Emotional? Definitely. But it's also reassuring, and a chance for me to get to know her. So, kick away, baby girl. After all, Eloise has already asked me to "buy you both scooters once baby comes out" so you can play together. You should start training now to keep up with her!