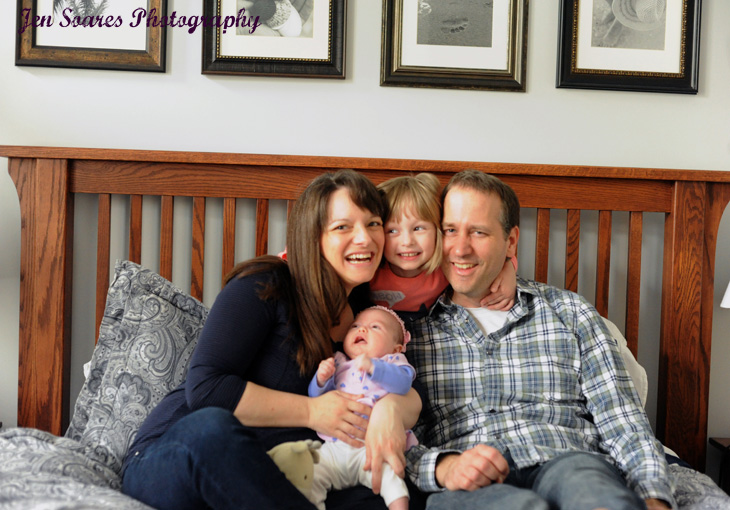 When Mae was born, my parents bought us a beautiful photo frame to document every month of the baby's first year. We have one for Eloise, too, and it's so much fun to look back at her darling baby face and see how it grew and changed. We've already noticed a huge change in Mae…she's growing so fast and this time is fleeting. Last weekend, when it was time to snap her two month portrait, I thought it was also time to capture a few family photos, as well. Short of a cell-phone selfie a few days after coming home from the hospital, we didn't have a photo of the four of us.
Four. Family of four. That new distinction has been giving me pause. Because it's not true. We are a family of five. But one of us will always be absent. Family photos are a physical reminder of that discrepancy and of Hannah's glaring absence.
It will never be easy for me and Mike, taking our own family photos. Not from a technical standpoint, although it's always a laugh working with a tripod and remote, trying to wrangle a wiggly dog and two kiddos, while trying to get the artistic shot we always dreamed about! I'm talking emotionally. I'd be lying if I said there wasn't a substantial amount of guilt and sadness that comes with seeing these happy, smiling images of the four of us. That will never change. There isn't a day that goes by that we don't miss Hannah and wish she was here, goofing around with her sisters.
But perfection isn't the point of a family photo. (If it was, I'd also be magically 25 pounds lighter!)  Family photos capture a moment in time. And, for better or worse…this is our moment. So, in that vein, these photos showcase so much love. In that way, Hannah is very much present.